I love breakfast but recently I have been eating the same thing; fried egg and whole wheat English muffin with a little butter and organic jam. It's not a terrible breakfast but I felt like I needed a healthier option.
After doing some research, I decided on egg and avocado on wasa crispbread. This breakfast is healthy, filling and can be super versatile because I can add different toppings and keep it fresh every day.  For the base I use these ingredients:
1 piece Wasa crispbread
1/2 avocado
Pinch of pumpkin seeds
1 egg
1 sprinkle each cayenne pepper, turmeric and Hymalayian pink salt
Pinch of black sesame seeds
Instructions:
Make egg how you like it, I like mine fried over-easy but you can do scrambled, poached, sunny-side up, etc…
Cut avocado in half and use a knife to smash it up.
Spread avocado onto Wasa and sprinkle with pumpkin seeds, cayenne, turmeric and pink salt.
Place egg on top and sprinkle with black sesame seeds
Add any other healthy toppings you would like. Today I added tomatoes, fresh basil and a few drops of hot sauce. You can get really creative here by adding so many different options; black beans, salsa, corn, green onions, etc.
Enjoy!
calories: approx. 336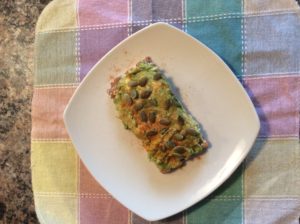 I also made a fruit and yogurt mini jarfait (haha, get it? It's a parfait in a tiny jar).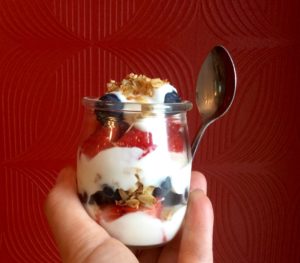 This was the perfect sweet little addition to my savoury breakfast.
calories: approx. 73
My new breakfast is well rounded, has healthy fats, keeps me full and energized, and most importantly-makes me happy 🙂
What is your favorite healthy breakfast? Please comment below…